Come in a Convenient Set of 2
Keep your pillows looking & feeling like new – with SureGuard Pillow Protectors – the ultimate protection for any pillow!
Available in the following sizes:
Toddler/Travel – 14″ x 20″
Standard – 21″ x 27″
Queen – 21″ x 31″
King – 21″ x 37″
Body – 21″ x 55″
Euro – 27″ x 27″
NOTE: Learn more about our Smooth SureGuard Pillow Protectors with soft cotton jersey surface (no pillow case required).
100% Waterproof
Complete protection against sweat, saliva, liquids and stains – prolonging the life of your pillows, while keeping them fresh and clean.
Bed Bug Proof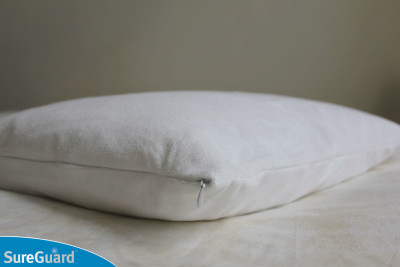 Our super fine zipper with Invisi-Zip technology completely seals off your pillow from bed bugs – both entry and exit proof.
For total protection, buy together with a SureGuard Mattress Encasement and Box Spring Encasement.
Allergy Relief
Nothing can penetrate this pillow encasement, not even dust mites, pollen, pet dander, mildew or mold. It is a must for asthma and allergy sufferers.
Soft and Noiseless
The light-weight 100% cotton terry surface wicks away moisture, creating a soft comfortable sleep space.
Breathable and Cool
The advanced membrane backing blocks liquids, while allowing air and heat to flow through – keeping your pillow cool and dry throughout the night.
The protector is perfect for memory foam pillows, where it allows your body heat to flow through, and activate the foam's contouring properties.
Easy On & Off
The zippered design makes it a snap to protect any pillow. To use, slip the protector over your pillow (cotton terry side facing out), close the zipper; place a regular pillow case on top.
Machine Washable
Machine wash with cool water. Tumble dry on a low heat or air dry. Do not bleach, iron or dry clean.
Superior Quality
Each waterproof pillow cover is made with the finest materials and put through rigorous quality checks to ensure it protects your pillow, wash after wash. For best results, follow the care instructions.
SureGuard Pillow Protectors contain no Vinyl, PVC, Phthalates or fire retardants, making our products breathable, odorless and free from toxic chemicals.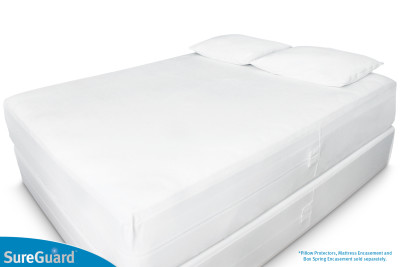 To demonstrate that our protectors and encasements are low-emitting and promote better indoor air for your family and environment, all SureGuard products are GREENGUARD Gold certified for low chemical emissions.
Money-Back Guarantee
When you buy SureGuard Pillow Protectors, you have a full 30 days to try them risk-free. If they do not live up to your expectations, simply return them for a full refund (less shipping costs).
In addition, all SureGuard protectors come with a 10-year full replacement warranty.
Amazing Discounts!
From time to time you'll find INCREDIBLE SPECIALS on our full range of products. Please visit the Amazon.com listings for more information…
Rest Assured with SureGuard.